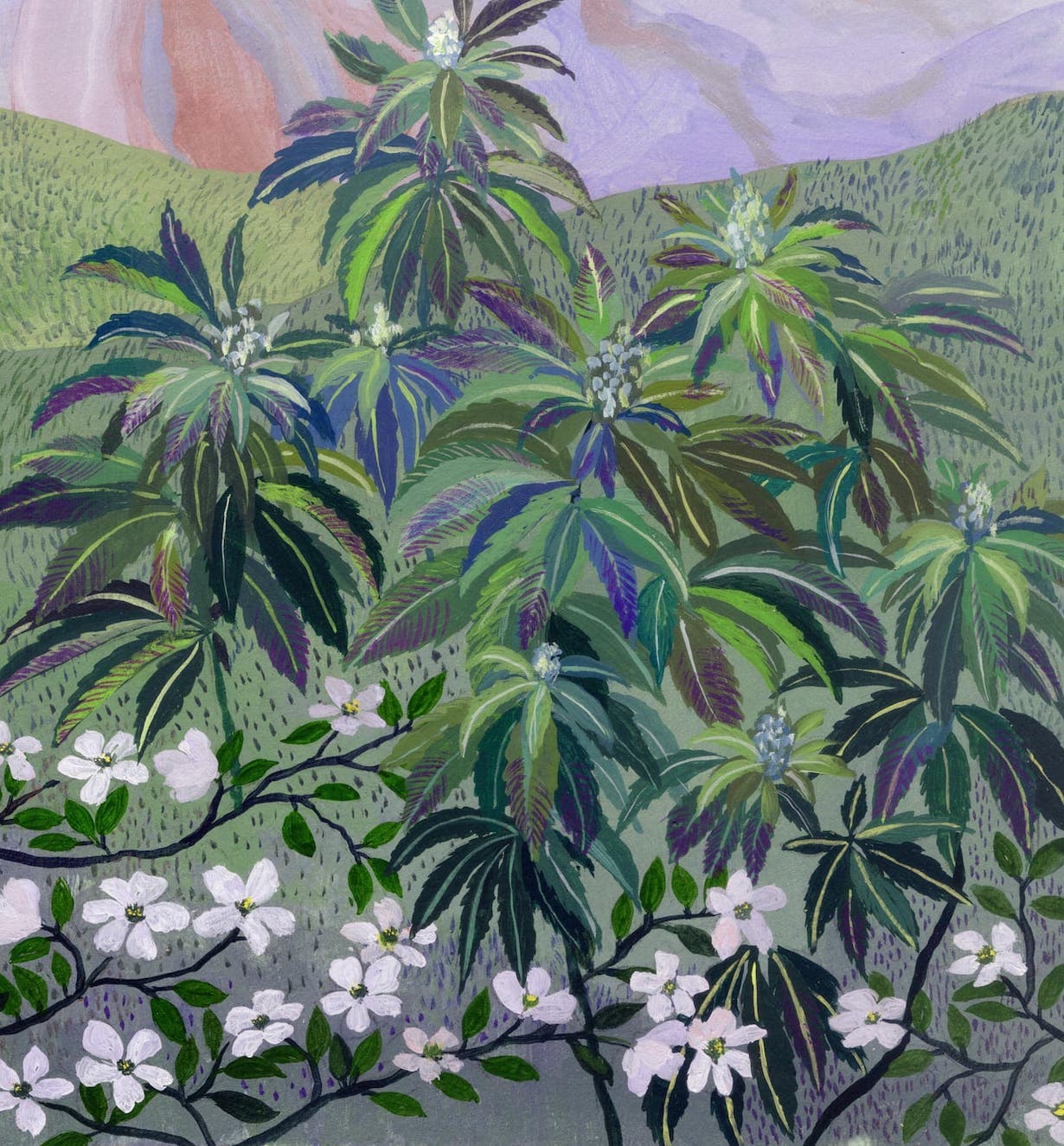 White Rhino
Indica
The indica-dominant off-spring of White Widow and an unknown strain. White Rhino is a celebrated BC strain cultivated in the Gulf Islands before spreading across Canada. Its upfront sweetness and fruity, blueberry, mango notes make it a pleasure to smoke.
Levels
THC
18-22% | 180-220 mg/g

Terpene Profile
Myrcene
Humulene
Caryophyllene
Ocimene
Pinene
Facts
Dense snowy trichomes
Classic BC bud strain
High-THC potential
Purple hues throughout
Origin

fig 1.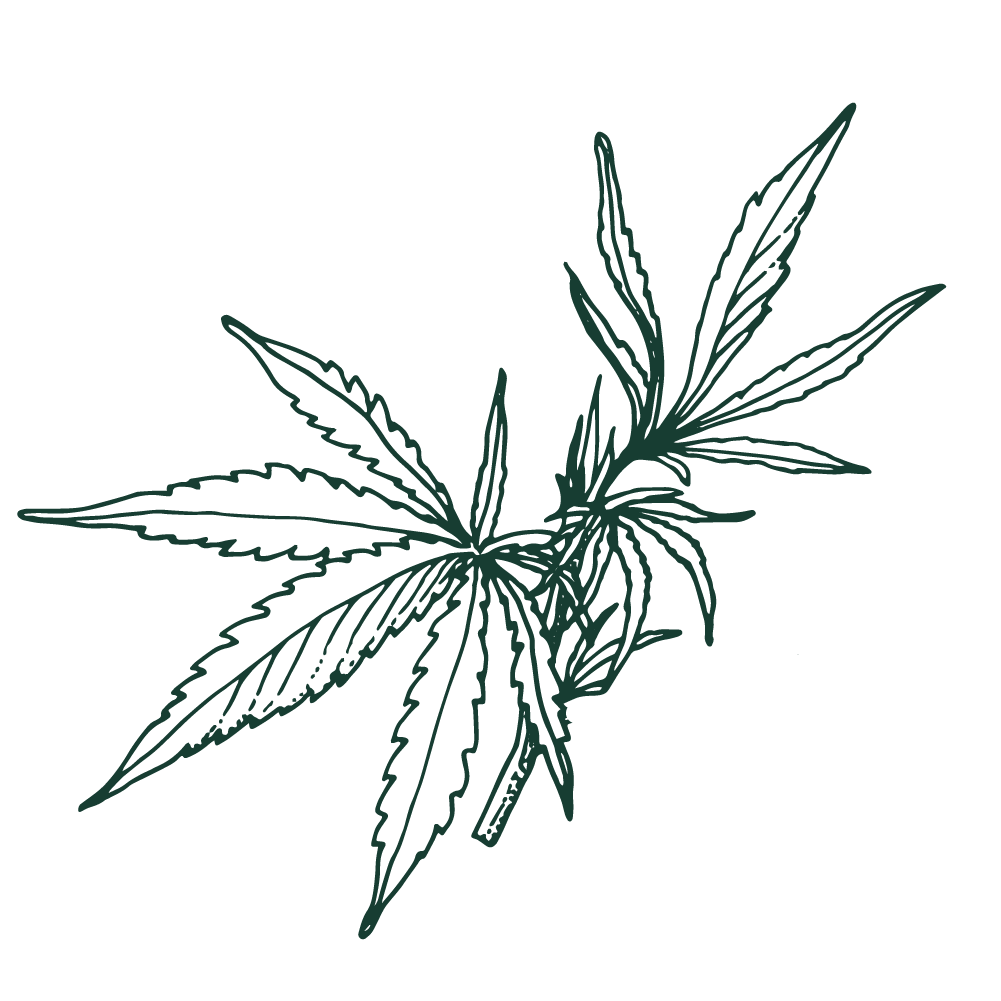 Grow Notes
Natural Colour
To bring out colours in cannabis, it's common to drop the growing temperature, but White Rhino does not require this. It's bright and colorful all on its own.
Popular Export
In the BC legacy market, White Rhino was very popular in Ontario, so we are happy to be able to share this strain with our neighbours to the east.
White Rhino bud

Cola

Fan leaf

Nursery

Fan leaf detail

Different eyes see different things

Trichomes and pistils

Week eight
1 product
Available Products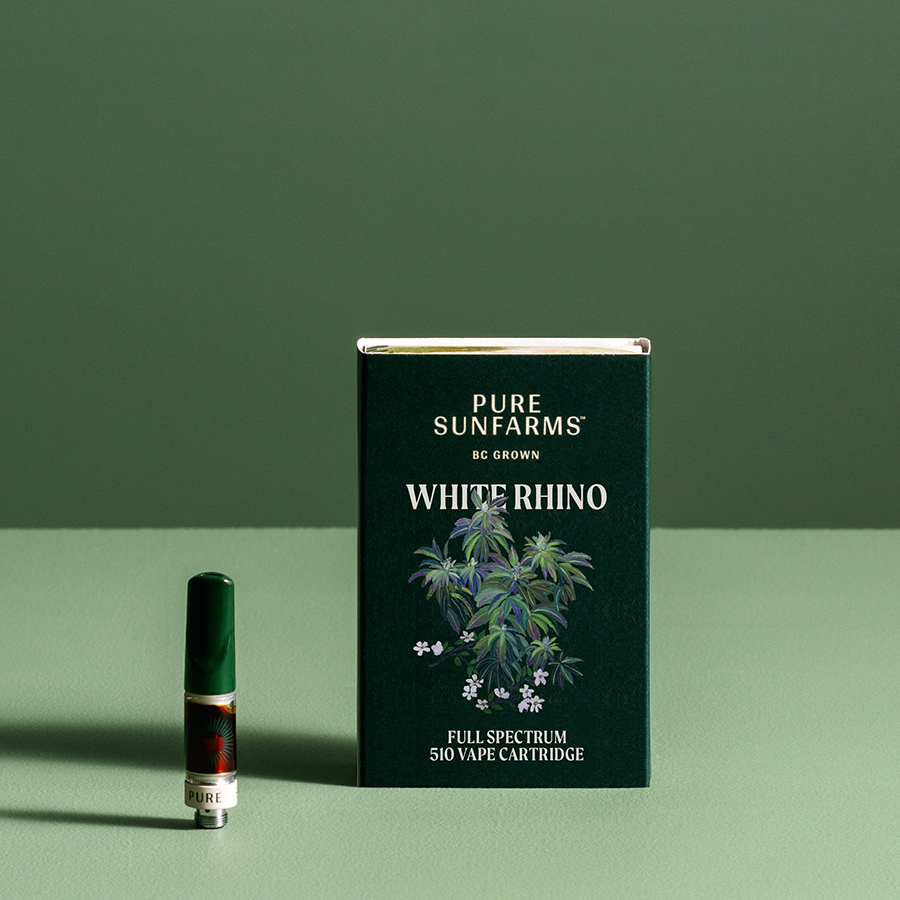 Full Spectrum Vape

Signature Strain

White Rhino
Full Spectrum Vape

Signature Strain

White Rhino
Profile
Fruity aromas of blueberries and mangos (myrcene), green grapes (alpha-pinene), and Thai basil (caryophyllene), our strain is both potent and intensely flavourful, carefully preserved in the terpene-rich extract.
Frequently Asked Questions
How does Pure Sunfarms select the strains that grow in the greenhouse?

Driven by a love of plants, our growers select the strains that grow in our greenhouse based on a variety of factors, including potency, terpene levels, and disease resistance. We also select our strains based on their history and popularity within the BC market – we are, after all, all about growing and telling the story of quality BC bud.

What lighting does Pure Sunfarms use to grow cannabis?

Our high-tech greenhouse allows for the precise manipulation of the heat, light, and energy the sun brings. We use a mixed-light cultivation process, which harnesses the power of the sun to grow and provides supplemental light in the darker months to mimic the sun by providing our plants will all the spectrums of light they need to thrive.

Is Pure Sunfarms' cannabis pesticide-free?

Our growing process is 100% chemical pesticide-free. All our plants are grown in a coconut husk fibre (aka 'coir'). We feed them a proprietary plant food that is lab-tested and approved by Health Canada. In fact, it's similar to the food-grade plant food our team gave to their crops of tomatoes and peppers previously, a formulation based on learnings from decades of success.